Virtual reality revolutionizes the real estate industry
February 01, 2018
The application of virtual reality technology in the real estate industry is relatively mature in Western countries, with some well-known companies starting VR model tests in the architectural design field and expecting its use to be commonplace within five years.
Open house visits are a fun way to explore a property, but when you go for a visit, you have to imagine what it might look like with your own furniture, setup and style.
VR products have mainly been used for customer experiences in sales offices. The majority of them have their usefulness underestimated, serving merely as a marketing gimmick. However, if used properly and effectively VR models have the potential to revolutionise promotion and marketing in the real estate industry and facilitate the development of customisation services. It is expected that in the near future when the VR equipment becomes more portable, the house inspection and selection process can be completed online with the use of a mobile device, thus enhancing the customers' experience and improving industry efficiency.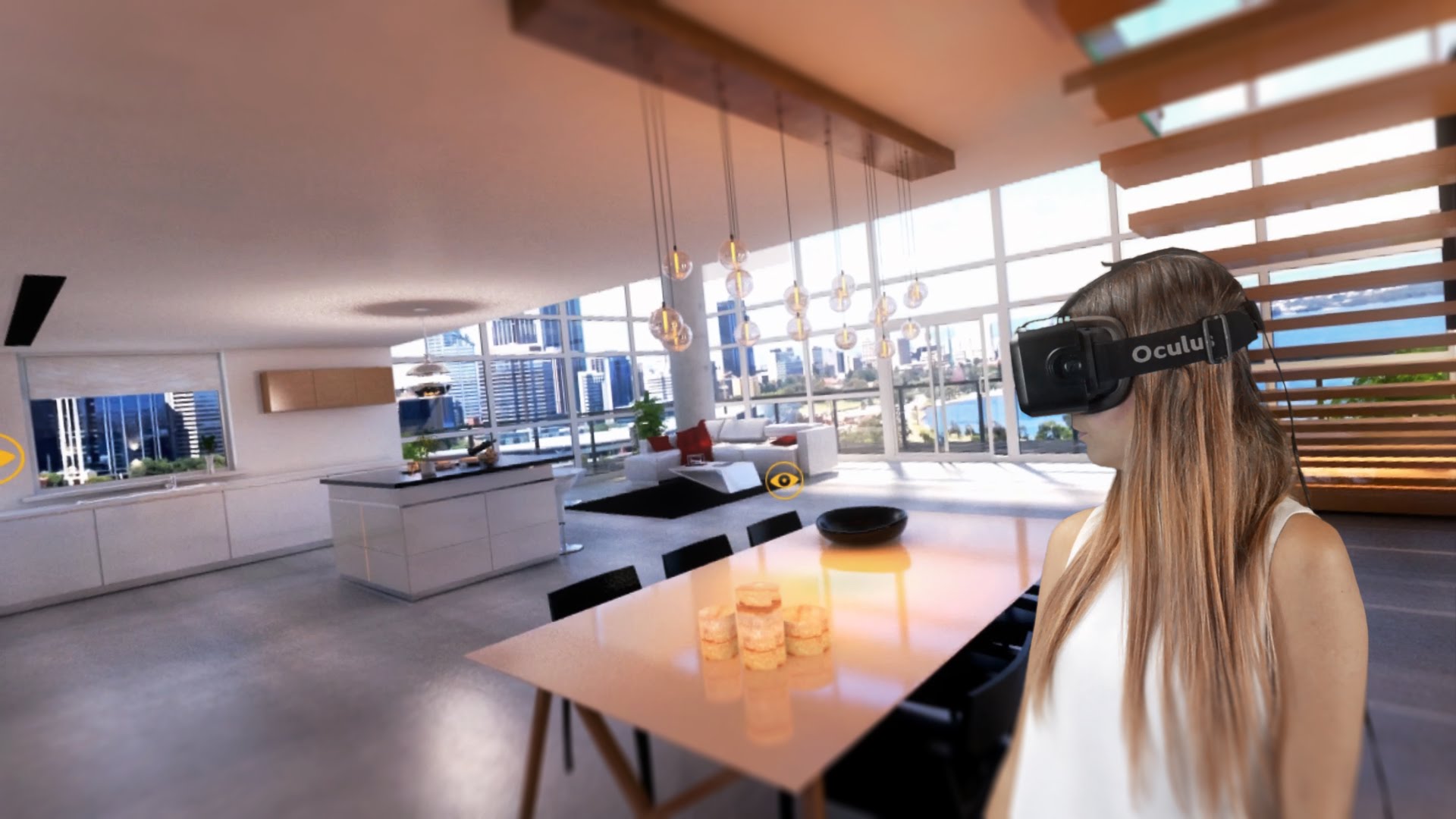 The 3D and VR Tours are produced by strategically placing specialized cameras throughout a home, resulting in a transformative way for people to view homes online. The 3D and VR Tours add an additional layer of content to a home's existing property detail page on sothebysrealty.com, which already provides a written description, beautiful high-resolution photography and stunning high-definition videos.
Virtual reality technology is set to emerge as a powerful tool in selling property developments off-the-plan. Start VR is proud to have become the first company to offer a fully immersive, head mounted, virtual reality experience for the Australian real estate industry.
Matterport
Property photos have been a key part of property marketing for decades, but thanks to advances in video and internet technology, there is no need to view properties in only two dimensions.
With new technology from Matterport, real estate listings are livelier. For example, homes listed with Redfin come with a 3-D walkthrough.
"We're making a digital copy of the inside of the world," Matterport Director of Commercial Real Estate Marc Rehberger told me when we spoke at Disrupt CRE. "It increases the amount of time spent on an ad between three to six times when there's a Matterport model on that ad. ... It's very, very sticky." Since its founding in 2011, the company has scanned more than 550,000 properties.
Unlike standard real estate websites like realtor.com, zillow.com, cribscan.com, trulia.com and others, here are some solutions that include true immersive virtual reality experience:
When you walk into an open house, it is tough to visualize how the property would appear with your unique flair. Many people want their homes to look like the staged version, but unless you are willing to pay for all of that furniture, it is more likely you will bring your own trappings with you when you move.
roOomy is a virtual staging technology company that allows you to visualize any room or space the way you would decorate it yourself. Drawing from a catalog of more than 100,000 furniture and household items, roOomy allows you to upload a picture of a room and virtually decorate it to reflect your personal tastes.
Using 3-D modeling, Virtual Xperience allows VR headset users to access the full walkthrough experience in a property that is in development or under construction. Investors building a new condo or office space can start selling before a shovel hits the dirt with interactive 3-D walkthroughs. Developers are using Real Time Options, which customizes color palettes, materials, furnishing and lighting conditions, to help buyers personalize and visualize the unbuilt spaces, as well as analytics to understand market trends.
One of the biggest game-changers for real estate investors is the use of VR for fix and flips and renovation projects. Real estate investors are painfully aware of the challenges associated with visualizing an end product and then communicating that with your contractor and renovation team. Investors involved in rehab projects can leverage VR to instruct their renovation contractors on exactly what project should look like at various stages.
Paul Lisanti, a real estate sales representative, notes that by "using VR to superimpose improvements (new furniture, paint, decor, etc.), investors can get a better idea of what proposed renovations will look like, and ultimately cost." And, as many real estate investors work in joint venture partnerships, VR is a great way to show other investors the progress of a renovation project.
"Start VR has created a truly realistic virtual experience of EDGE 28 by incorporating high quality computer generated architectural and combining these with drone photography allowing buyers to sit in the apartment and see the actual view from the 8th and 11th floors, as well as the rooftop," Jason said.
"The EDGE 28 Virtual Property Tour is a first for Australia's real estate industry and we are excited to be exploring the potential of VR technology to give buyers more confidence when purchasing off the plan.
Conclusion
Keeping in mind these limitations, three suggestions on improvements are made for the current VR industry. Firstly, improving image clarity can enhance the VR model's approximation to reality and avoid undesired side effects related to customer feelings. Secondly, continue lowering the cost because further enrichment in customer experience would mean an increase in the amount of money invested in VR model construction. Lastly, the industry should develop a standardised production process which will shorten production time and facilitate the long-term promotion of VR products in the real estate industry.
Virtual reality, the new reality
As real estate investors, we are always looking to add new tools to our tool-belts. In the near future, VR will be one of those gadgets that will save us time, money, and pain. Touring potential investments, showing prospective tenants our rentals, conducting renovations, advertising, and communicating with tenants are but a few ways VR will improve the lives of real estate investors.
Alex Doubet, CEO of Door Homes, notes that through VR, "Real estate investors will have better information with which to price homes, move quickly, and win great deals." Much like the advent of the internet and online listings, VR is going to be a game-changer for real estate investors and the industry as a whole.
If you have your google cardbord setup already, here is the video that will help you experience what virtual reality can bring to real estate:
Similar articles:
Publisher: VRExtasy
http://vrextasy.com/news/virtual-reality-revolutionizes-the-real-estate-industry
http://vrextasy.com/news/virtual-reality-revolutionizes-the-real-estate-industry