Meet new people in virtual reality
August 30, 2016
Platforms for meeting new people in Virtual Reality
There are many platforms for meeting new people and hanging out in the VR world, here are some of them. You should find one that suits yourself and hope you have a great time exploring.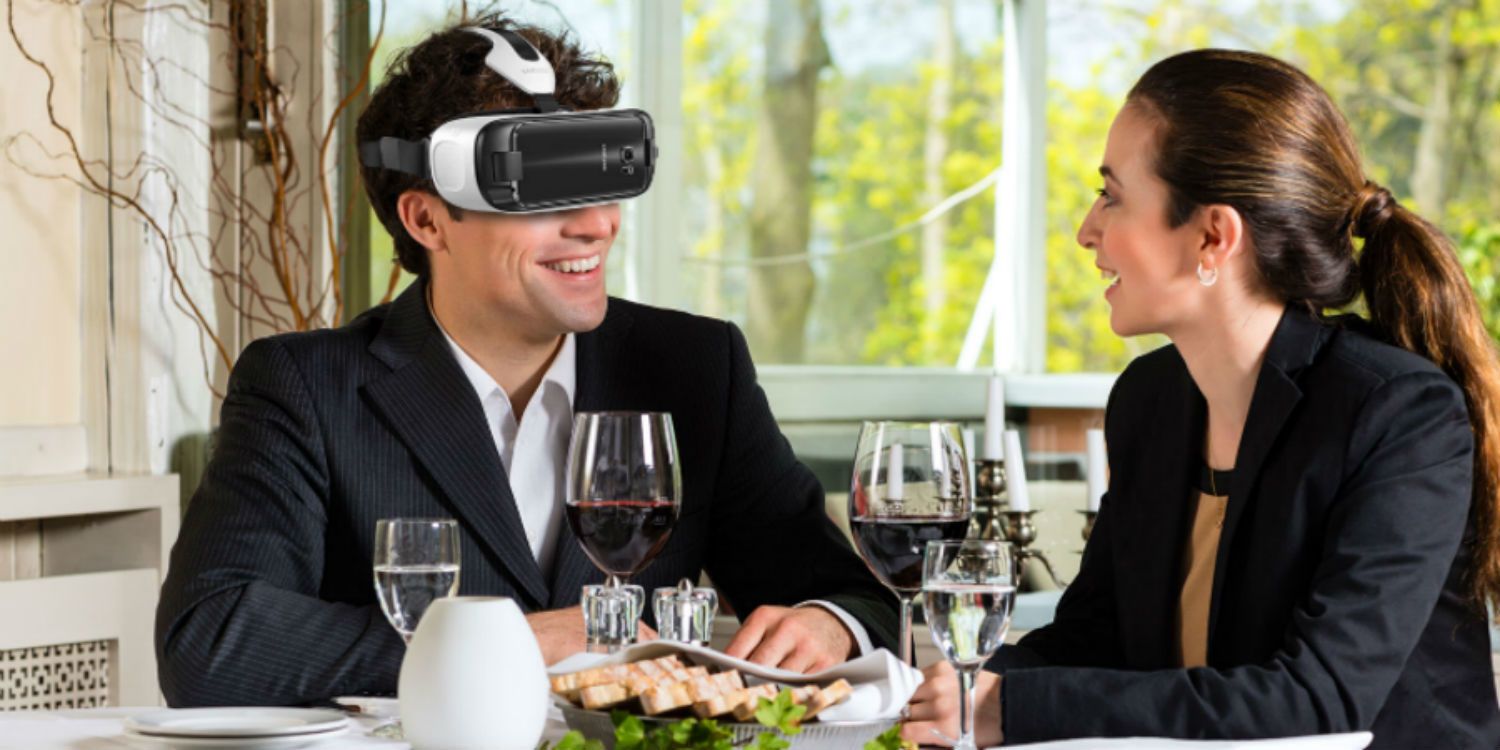 Tinder, OkCupid, HotMatcher and others may have made finding a date easy, but the dates themselves can still be a big waste of time. Meeting strangers in bars is certainly faster than hoping to meet strangers in bars, but it doesn't pass for a streamlined process because there is not a gradual leveling up of seriousness, swiping then texting, then, quite suddenly, emotional entanglement. There needs to be another step, and VR seems like the best technology to make it happen.
Second life - Your World. Your Imagination.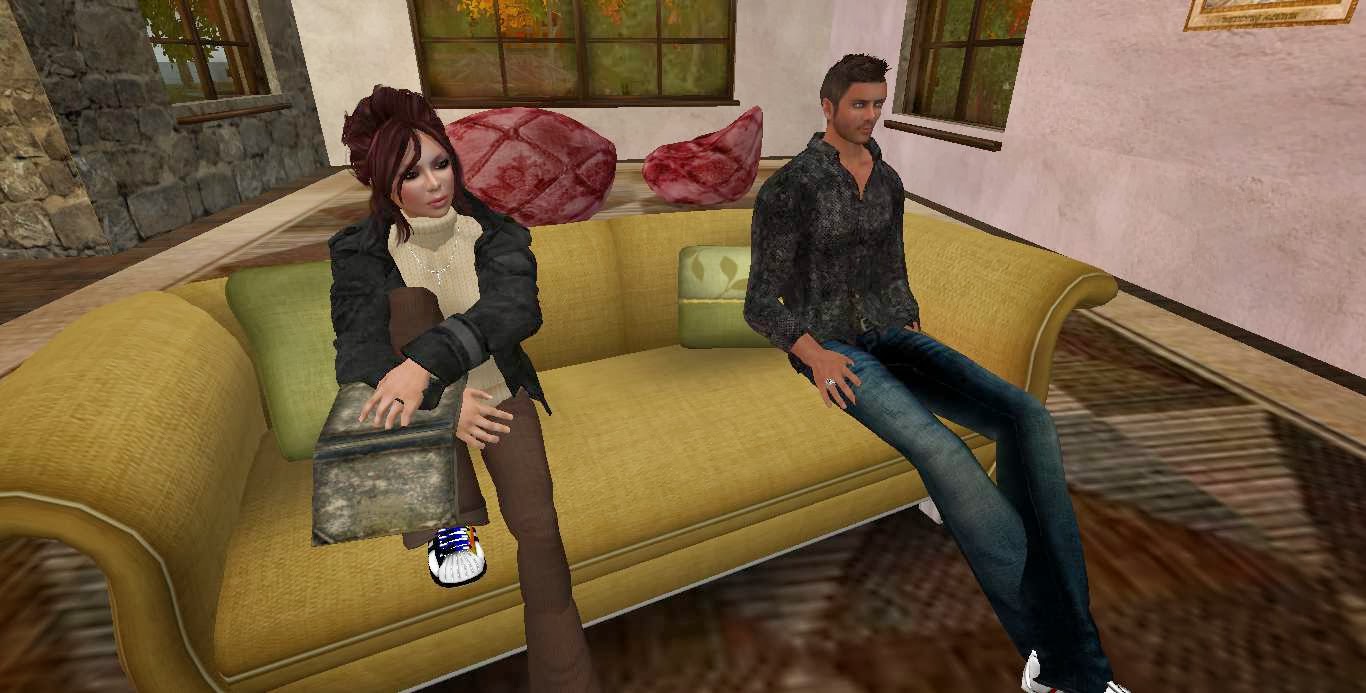 Second Life is an online digital world, built, shaped, and owned by its participants. Create a shared reality in a world full of people, activities, adventure, and fun. If you are a designer, programmer, or inventor you will be blown away by the variety of opportunities Second Life provides. Create beautiful scripted 3D objects in a totally live online environment - from weapons to clothing lines to motorcycles. Explore a rapidly changing and expanding world simulated on over 100 servers (with new land added almost daily), containing hundreds of thousands of user-created objects, daily and nightly hosted events, games to play, and people to meet. Buy and sell land, create a business, or exchange virtual for real currency. It's up to you. Second Life is yours to imagine and inhabit. [Linden Lab]
According to Converge, the platform is a space to hangout with friends, the graphics are not really what you would expect if you compare it to a killer online game, but this platform – and especially social interaction in VR – is still very young. First times can be awkward and social anxiety is alive and well in virtual reality.
Just try it and see what it is, it might be the future for you.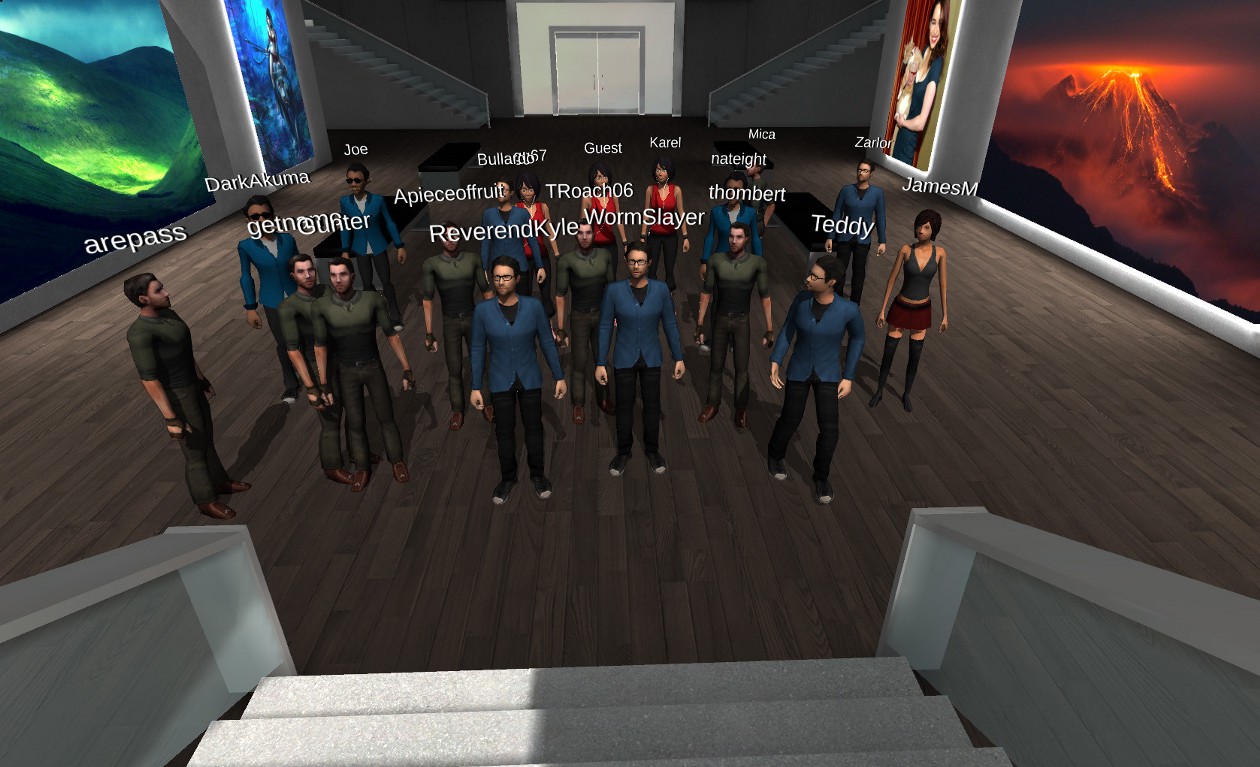 As the name tells us, it is a chat platform for chatting. As a beginner, it might scare you off a little bit because on the download page you will see requirements for the Oculus and Unity SDK. Do you know what to choose?
VR Chat has the ability to allow you to chat with users from all around the world but feel like they are in the room with you. If you're looking for a simple and intuitive virtual chat space with great voice audio then VR Chat is the place to be.
You can create your own avatar, select a room to go to or just create one for you and your friends.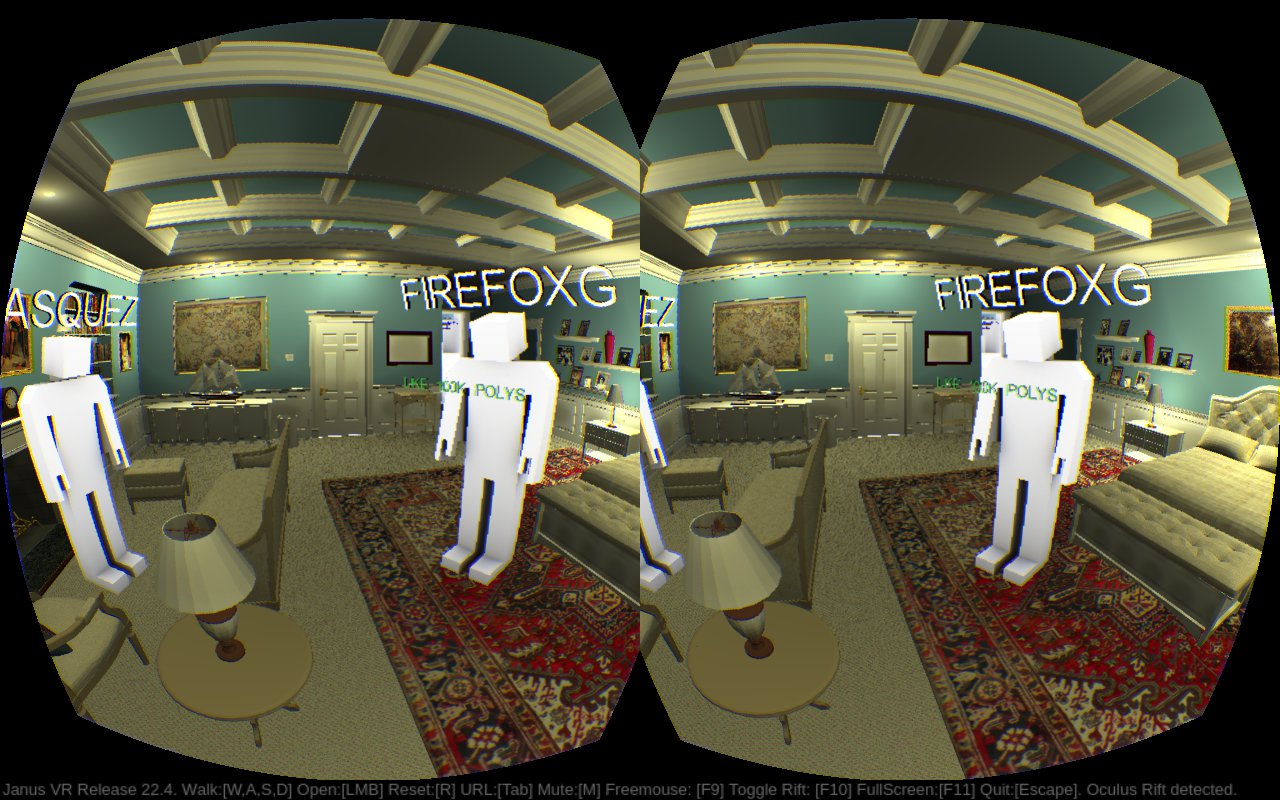 An immersive, collaborative, multi-dimensional internet They support OculusVR Rift DK2 and Leap Motion, driven by gamepads, mouse, keyboard, touch or natural 3D gestures.
They say: "janusVR is a VR experience, created and explored by the collective imagination of our growing global sentience. In janusVR today, we transcend geographical boundaries to convene and interact in connected, multi-dimensional spaces.
…socializing, shopping, conducting meetings, attending music, movies and gaming events, or collaboratively wandering each other's decentralized utopian spaces, exploring and inspiring creativity in each other."
JanusVR represents webpages as rooms and links connect rooms via doorways. Pictures embedded in the webpages hang on the room's walls. The environment is dynamically generated, using a portal-based system. As a user of JanusVR the internet is experienced by simply walking between rooms and interacting with the internet in a purely visual and far more interactive manner.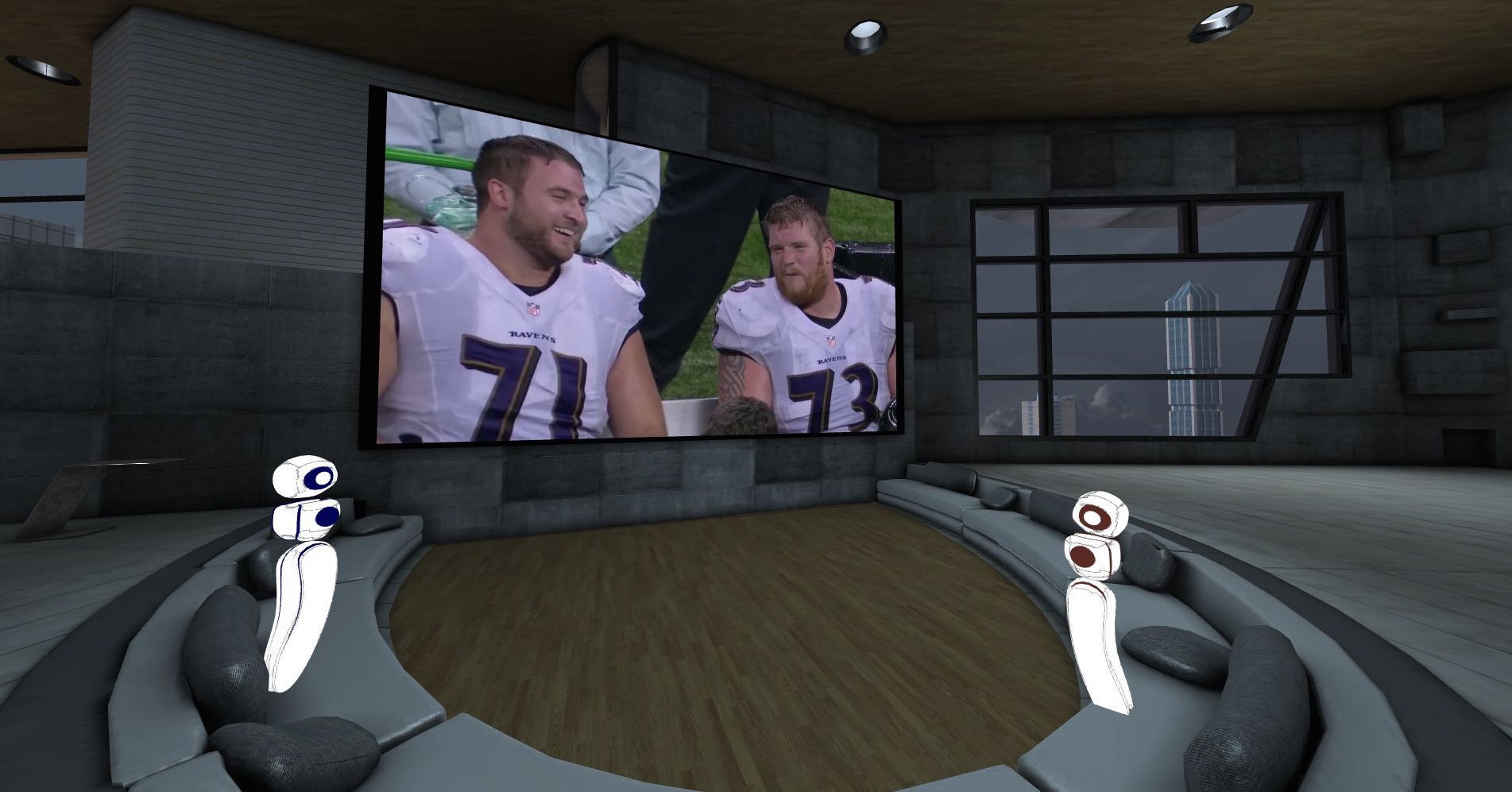 The slogan: Be together, in person – Experience the web, from anywhere, with anyone, through virtual reality.
Hang out with real people in virtual reality. Watch a movie marathon, laugh at improv comedians, practice your Spanish, play Dungeons and Dragons, attend a lecture, or join our newest trivia game, Sketchy Quiz. They keep their events page stacked with upcoming social AltspaceVR gatherings, where you can schedule an event of your own or register to attend one with others on the platform.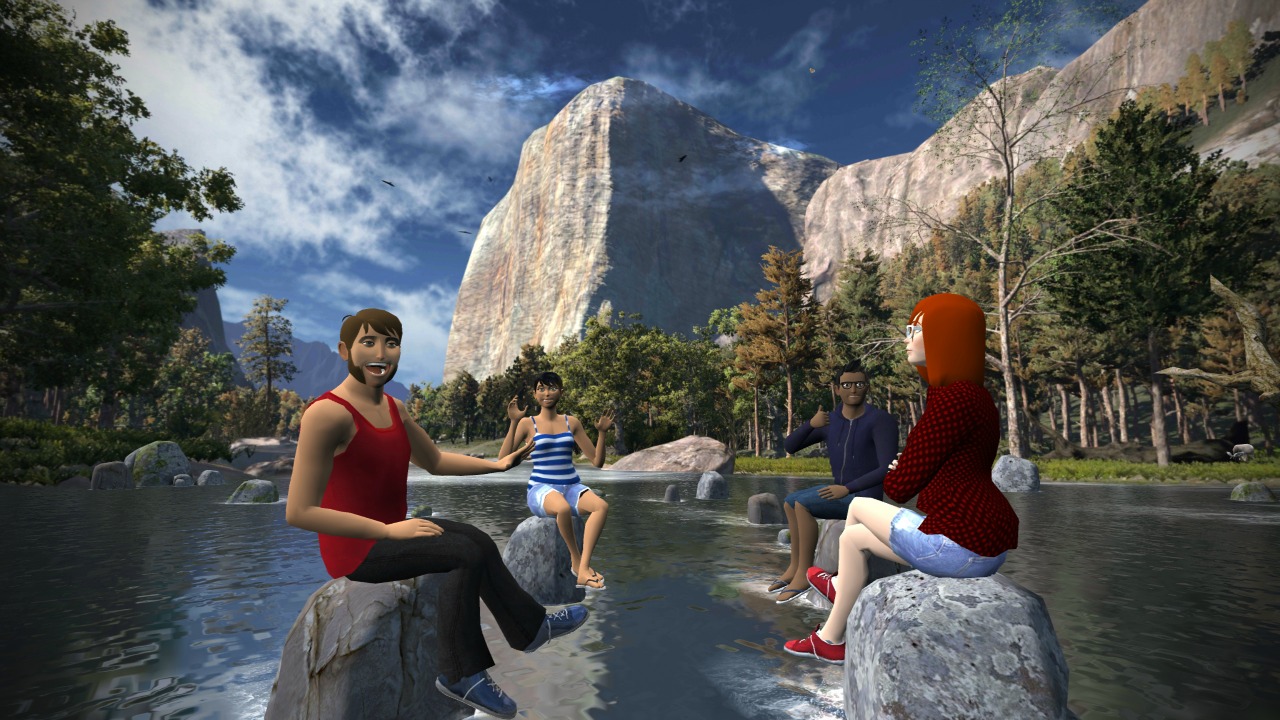 One of the location in vTime ;)
Needless to say, the best experience is with an Oculus Rift.The platform allows you to create avatars from a small selection and only allowing interaction with other people in a single application. Maybe in time, the general idea will be integrated it into Facebook. Being with other people sounds great and we will definitely see more of this.
Developed by Starship Group, vTime is the world's first Virtual Reality Social Networking Platform where you can literally meet people and hang out with them. Not only this, you can even hang out with random people.
The whole concept was developed along the idea: Instead of hanging out with people in real life, why not hanging out with them in Space?
Starship Group, a VR/AR innovation company, launched the service ofvTimeonGoogle Cardboard on 11th March 2016. But, now the app even works onSamsung Gear V2.
Let's get a SNEAK peak into the vTime app:
vTime advantages:
The social network lets you create a virtual avatar
A total of 12 virtual worlds is available where you can hand out with your friends.
You can create chat rooms and invite your friends
The system can even match you up with random people to talk to (calledRANDOM MATCH feature)
Clothes, facial hair, sex and skin color are all customizable in vTime.
vTime adds some character movement to make the avatars more life-like.
Not only some sneaky eye-movement like in the case of 'Oculus Social', but the characters even does mouth, eyes, body, and hand movement based on audio input alone.
3DXChat - adult dating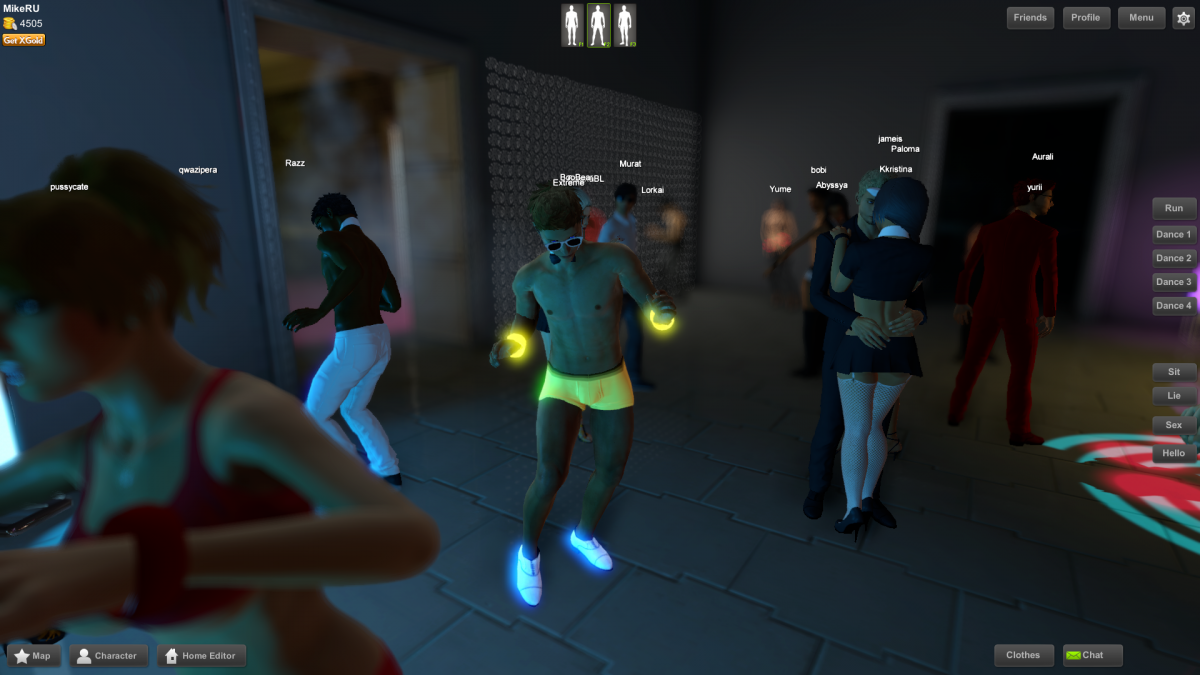 Upon launch we were delighted to see striking graphics and animation that are clearly higher quality than most MMOs and certainly better than all adult MMOs currently available. Also, the background music (provided by Sky.FM) and sound effects are crystal clear and at a consistent volume level making them pleasant to hear.
3DXChat game design is elegant, intuitive and easy to use. In addition, the interactive adult game launches with a simple to understand tutorial that walks you through various aspects of game settings and play.
Avatars include key face customizations including selectable face type, skin tone, and hair style. Various body parts including bum, legs, arms and breasts for the ladies can be fine-tuned. Currently, the game offers only a few clothing options but the wardrobe gets additions regularly.
Unlike some adult MMOs, there is no option to create your own web-based social profile. Instead, 3DXChat provides a simple profile text box for a brief personal intro. One great feature of 3DXChat is the ability to create multiple profiles, each of which can have a completely different avatar and friends list.
Don't let the title fool you, you can't do dating on youtube :) But here is an interesting video of a girl that is taking you on a date in 360 video. The video is mostly funny but soon this kind of experience will be available in real time with real people separated miles away from each other.
Relationships, ultimately, require two (or more) people to like each other enough to hang out in person. VR dating will help us get to that point — or realize that we never will — faster than ever before. Love in the time of Oculus Rift is going to be a weird and occasionally painfully efficient thing, but the end goal has always remained the same.
Similar articles:
Publisher: VRExtasy
http://vrextasy.com/adult-entertaiment/meet-new-people-in-vr
http://vrextasy.com/adult-entertaiment/meet-new-people-in-vr