How to experience augmented reality with Tango
September 06, 2016
Tango promises big things ahead - and it already has the software to get it take off!
Project Tango at this point is probably not new to anyone reading this as we've discussed it before, but in the past few years, Google has been hard at work making positional tracking and localization into a consumer-ready application. While there was an early tablet available with an Nvidia Tegra SoC inside, there were a number of issues on both hardware and software.
Lenovo and google phablet
We already know that Lenovo and Google are making a phablet that uses the crazy Project Tango tech. What we didn't know for certain were the uses for that technology. Today I discovered that it is a pretty solid indoor navigation system when you have no GPS, no Wi-Fi, and no clue.
Thanks to a series of cameras and a depth sensor, Tango is aware of space and motion. Google's made its name in collecting information from the world around us, so it should know what it's doing here too
Technical data
With Tango, the strategy taken to avoid this problem works at multiple levels. At a high level, sensor fusion is used to combine both camera data and inertial data to cancel out noise from both systems. If you traverse the camera tree, the combination of feature tracking on the cameras as well as depth sensing on the depth sensing camera helps with visualizing the environment for both mapping and augmented reality applications.
The Project Tango "Indoor" ability is an unexpected and welcome tool that may be very useful for navigating tricky modern mazes like malls or central metro stations.
There are a lot of neat ideas being tried out right now, and when you start looking at Tango's augmented reality uses, truckloads of potential applications come to mind. With the Lenovo Phab 2 Pro, Tango is finally coming to fruition in a consumer-facing way. Google has integrated Tango APIs into Android for the Nougat release this fall. Of course, while software is one part of the equation, it's going to be very difficult to justify supporting Tango capabilities if it needs all of the previously mentioned coprocessors in addition to the depth sensing camera and fisheye camera sensors.
Tango apps
Here is the list of tango apps available at the moment (6th October 2016)
Measure
No tape measure? No problem. With Tango, you can simply grab a quick measurement with a quick grab of your phone.
Solar Simulator
Turn any space into outer space as Tango takes you on a personal journey of the Solar System.
WayfairView
Bring WayfairView's showroom to you and see how their furniture looks in your home without all the heavy lifting.
Tango Particles
Simple particle generator Unity demo for Project Tango.Includes a stereo mode for using with the Tango Dive VR helmet.
Project Tangosaurs
Tangosaurs is a technical demonstration built with Unity that showcases Tango technology. The application exercises motion tracking, depth perception, and, optionally, area learning to take users on a hunt for fossils. To use Tangosaurs, you'll want to make sure you have enough open space for the experience, at least a 10ft by 10ft space.
Garden - Mixed Reality
Mixed reality (MR) is a combination of virtual reality (VR) and augmented reality (AR). It not only lets users see virtual objects in the real world but also allows for virtual objects and the real environment to interact with each other. Our experience, Garden, does this by doing both stereoscopic rendering and 3D scanning using Google Project Tango, a tablet with motion tracking and depth sensing capabilities.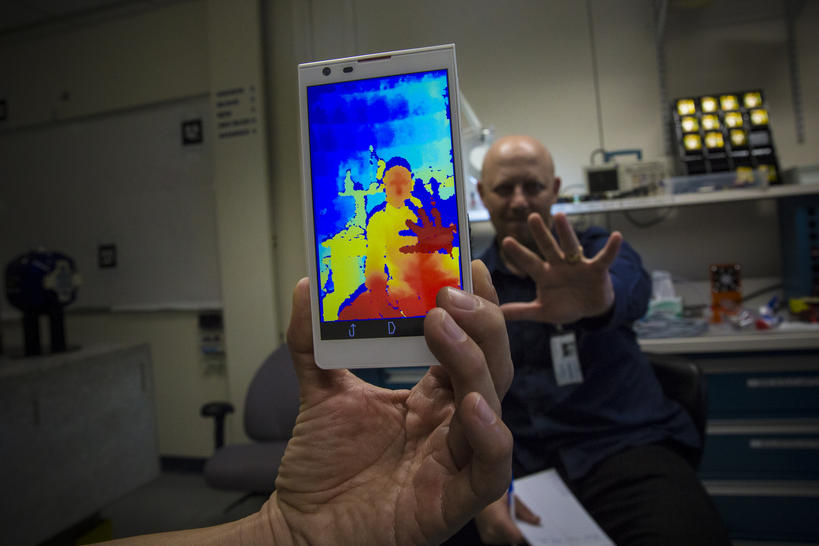 Conclusion
While Project Tango still seemed to have some bugs to iron out and some features or polish to add, it looks like as it is now the ecosystem has progressed to the point where Tango API features are basically ready for consumers.
Not all of Tango's big use cases will be for general consumers, but the tablet's ability to map its surroundings with such accuracy, and in such a short space of time, means a few killer apps is probably all it needs now if it wants to end up in the column of Google's successes.
The environment tracking for true six degree of freedom movement surely has implications for mobile VR headsets as well, and given that only two extra cameras are needed to enable Tango API features it shouldn't be that difficult for high-end devices to integrate such features, although due to the size of these sensors it may be more targeted towards phablets than regular smartphones.
Similar articles:
Publisher: VRExtasy
http://vrextasy.com/ar-news/howto-experience-augmented-reality-with-tango
http://vrextasy.com/ar-news/howto-experience-augmented-reality-with-tango