Virtual Rihanna
September 13, 2015
As New York Fashion Week got underway, Adam Selman, the designer responsible for Rihanna's 2014 CFDA Awards naked dress, that put him on every major fashion editor's radar, took the stage September 10th. But that's not the only Rihanna buzz making headlines at NYFW today.
On the heels of last week's launch of her latest fragrance, RiRi, the star has another announcement. An answer, really, to that burning question. "What happened to the accountant?" That's been a question on the minds of everyone that has seen Rihanna's most recent #music video: Bitch Better Have My Money. It's clear from the controversial video what happens to the woman, from being kidnapped, to tied up and whisked away on wild adventures. And, today, Rihanna answers that question with the release ofher new app that provides the "missing chapter" to her BBHMM cliffhanger.
But it's not just any app. It's an entire immersive, #virtual reality experience, shot in #360 video and enabled for playback on mobile devices and virtual reality headsets (HMDs). Yesterday, at the New York Fashion Week event, a few lucky attendees were able to experience the app for themselves, on#Samsung GearVR headsets, inside a private block party hosted by Rihanna's label, RocNation.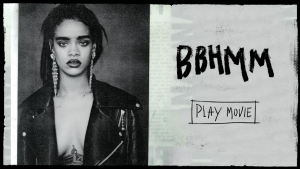 Rihanna's new #VR Bitch Better Have My Money app.

The project is a collaboration with leading 360 and VR content producers Stargate Media. Norwegian-based Stargate, which opened offices in Los Angeles earlier this year, is a veteran of producing high-quality 360 and VR experiences, long before the recent explosion of VR hardware.
Ciarra Pardo, Fenty Corp's Chief Creative Officer, had the alluring idea of somehow filling in the blanks for BBHMM, and exposing to people what really happened to the Accountant, played by Mads Mikkelsen. "Ciarra came to me and said 'I have this idea'," shares Mikkel Eriksen, part of the Grammy-winning writer/producer duo Stargate Music, that has worked with Rihanna on other hits, such as "Diamonds," "What's My Name?" and "Only Girl (in the World)." Eriksen continues, "She knew I had this VR company, and had seen some of our other work. After talking about it for a few minutes, I knew the team could produce an experience that a music artist has never before given their fans." And he was right, as this app – that can be viewed with Samsung Gear or #Google #cardboard on Android and iOS – will literally knock you back in your seat, onto the floor.
In 2014, Oslo-based Stargate Media released a short film app "Halibut," directed by one of Norway's top film directors, and starring some of Norway's most popular actors – which they produced themselves, from beginning to end. While the story is somewhat surreal (it's about a fish coming back to seek revenge on the dining fisherman and his staff), it exemplifies how engaging 360 video can be, by putting the viewer right in the middle of the action. On mobile devices, users can either swipe around the room, or move their device (and body) in any direction, as though they were standing in the room themselves.
Mads Mikkelsen as 'The Accountant' gets what he's owed.
For the BBHMM app, Stargate wanted to provide an even more personal experience. "We entered the project at the earliest stage, and were able to provide input for how we thought the story could best be told," says Renate Fossum, Stargate Media's Co-Founder and Producer of the app. While Stargate wasn't responsible for the content, they were tasked with the challenge of conveying the work of art in a manner that gave it both that personal and tantalizingly appalling feel. Their answer was to give the user a first-person (POV) viewpoint. "You feel as though you are a character in the scene. You are the Accountant. The action is happening to you," says Mark Demarest, the app's Associate Producer and head of Stargate's US operations. "You're there, tied to the chair, with Rihanna bloodied, standing over you, wearing this amazing…well, you'll have to download it to find out for yourself," Demarest teases.
Working closely with Megaforce, the team behind the music video, the material for the POV app was shot on location, alongside the video, in the middle of the night. "We did not have a lot of time, so we had to be extremely efficient in getting the material we needed," said Stargate's Interactive Director and Co-Founder Bjørn-Morten Nerland.
This POV VR app has a stereoscopic mode built for HMDs like Google Cardboard.
The app picks up in the Accountant's mansion – that he presumably bought with money that he cheated out of his clients – with Ri joined by her accomplices, the track haunting you in the background. "At Stargate Media, we put a lot of emphasis on the sound in our productions, as this is crucial to how the user perceives the VR experience," Nerland explains. "The sound dictates where the action is taking place, and therefore clues the viewer in on where their attention should be at any given time. We equipped the actors with special microphones and captured their breathing, screaming and other sounds which we used in the final mix."
BBHMM: available now on Google Play
"It's definitely a thrilling experience," says Demarest. "To get full immersion, you should really check it out on a #headset. If you have a Galaxy S6 or Note, Gear is definitely the way to go. If you don't, Cardboard is just as impressive. And Cardboard units are the most affordable way to experience true VR. For this project we even did a deal with the folks at UnofficialCardboard to get a certain number of sets delivered to fans for just $15," Demarest reveals. "You can get the discount code on our website."
The app, which Rihanna insisted making free for her fans (and accepting no sponsors or advertisements) is publicly available as of today on Google Play. For more information, check out thededicated BBHMM app page on Stargate's website. And be sure to let us know what you think of it, in the comments below.
Similar articles:
Publisher: VRExtasy
http://vrextasy.com/google-cardboard/Virtual-Rihanna
http://vrextasy.com/google-cardboard/Virtual-Rihanna