Jaguar introduces new Virtual Windscreen
August 31, 2016
Jaguar makes real-life driving like a video game with new Virtual Windscreen.
Jaguar has announced its new family of four-cylinder engines and a self-learning vehicle Range Rover prototype, and now it's announced what it calls the Jaguar Virtual Windscreen.
The self-driving car trend is gradually picking up momentum, but there are other game-changing innovations coming to the auto industry that have nothing to do with surrendering control of your car to a robot.
The technology is similar to other head-up displays and telematics recorders already on the market, the Jaguar Virtual Windscreen concept takes things to the next level to turn real-life driving into a video game-like experience. It's being demonstrated with data like lap times, grid positions, virtual racing line and brake guidance... even "ghost" cars from previous laps and virtual cones for simulated auto crossing.
The concept system's features, as shown in the above video, include virtual racing lines that change color to indicate optimum braking positions on treacherous curves. The video also shows virtual cones placed along the road in real-time, a tool that could help train novice drivers.
However, the system's most exciting feature is a "ghost car" visualization that allows users to race virtual drivers on a real road. They can compete against real lap times uploaded by other users, a feature that would make driving the vehicle similar to playing a video game.
The system also incorporates gesture controls and could be configured to display instrument data, a video feed from a rear-view camera to replace the mirror. Check out the details and the video below for a closer look at what JLR has got in store for the near future.
Jaguar has devoted a lot of research to this kind of virtual-display technology, showing off a transparent bonnet concept video in April, and an additional sunroof augmented-reality component later the same month.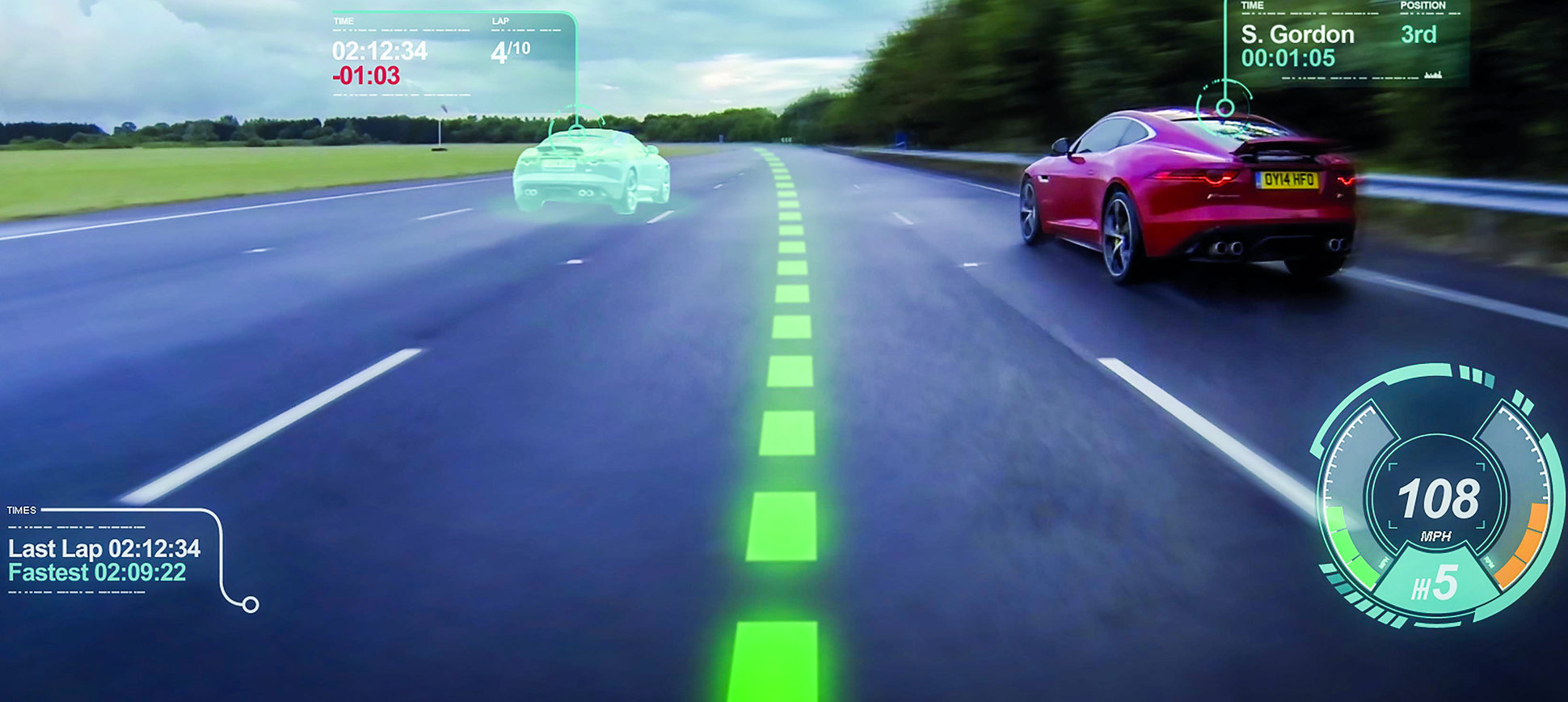 Jaguar Land Rover has therefore developed an innovative 3D instrument cluster, which uses the latest head- and eye-tracking technology to create a natural-looking, specs-free 3D image on the instrument panel. Cameras positioned in the instrument binnacle or steering column area track the position of the user's head and eyes. Software then adjusts the image projection in order to create a 3D effect by feeding each eye two slightly differing angles of a particular image. This creates the perception of depth which allows the driver to judge distance.
Similar articles:
Publisher: VRExtasy
http://vrextasy.com/hud/jaguar-makes-driving-like-vide-game-with-new-virtual-windscreen
http://vrextasy.com/hud/jaguar-makes-driving-like-vide-game-with-new-virtual-windscreen